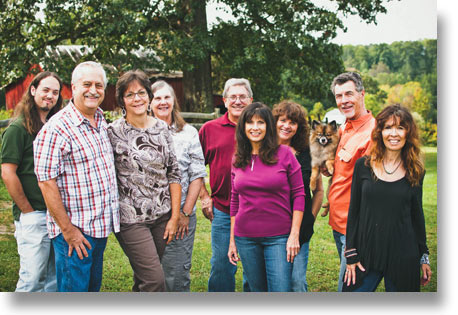 2012 LMCI staff photo, left to right: Jack Newman, Michael Daniel, Laurie Daniel, Trish Schlegel, David Carroll, Vicki Sides, Brenda Murphy, Dale Sides, and Nancy Blatnik.
Welcome to Liberating Ministries for Christ International!
Liberating Ministries for Christ International (LMCI) is a kingdom-minded ministry dedicated to setting people free. As an apostolic teaching ministry that equips people through biblical teaching and training, we help people experience the liberating power of Jesus Christ.
Many here in the USA and abroad have received freedom, deliverance, and healing from the spiritual truths expressed through the writings and teachings of Dr. Dale M. Sides, the founder of LMCI. These power-packed messages have helped both young and old get free, stay free, and live free!
Experience for yourself what LMCI can do for you.
Jack Newman - Sound Technician
Michael Daniel - General Manager
Laurie Daniel - Liberating Partners Director
Trish Schlegel - Administrative Assistant
David Carroll - Pastor and Liberating Ministries Small Group Coordinator
Vicki Sides - Graphic Designer
Brenda Murphy - Liberating Partners Liaison
Dale Sides - President and Founder
Nancy Blatnik - Editor
The Staff of Liberating Ministries for Christ International.